There are affiliate links in this post. As an Amazon Associate I earn from qualifying purchases. Please refer to my Disclosure Policy for details.
Do You Understand the Basics of the Fair Trade Movement, and how it impacts people around the world?
Like many people, I have long been familiar with the term "Fair Trade", mostly associating it with coffee and chocolate. I understood the basics of fair trade, the idea that the people producing the item should be paid a wage that provides them with a decent standard of living.
Since moving to Long Beach, I have become more involved with the Fair Trade movement, and recently served on the founding Board of Directors for Fair Trade Long Beach. I have learned that there is much more to Fair Trade that the simple statement above, and my goal is to share this information with you through a series of interviews of Fair Trade activists.
My first interview is with Teresa Baxter, long-time Fair Trade activist and one of the founders of Fair Trade Long Beach, in Long Beach, CA, which recently opened a Fair Trade retail collective here in town.
An Interview With a Fair Trade Activist
Q. Hi Teresa, and thank you so much for being the very first CircleSquareOval interview. Can you tell us a little about yourself and your background in Fair Trade?
Teresa: Thanks for having me! I have been involved with Fair Trade since 2006 when I began volunteering at non-profit retailer Ten Thousand Villages Pasadena. When I moved to New York City to study international relations at Columbia University, I became the publicity coordinator for HandCrafting Justice (from 2010 until 2014), a Fair Trade global non-profit, with a focus on the empowerment of women internationally. I also volunteered at Ten Thousand Villages in Alexandria for one year, while serving on the steering committee that earned Alexandria, VA, Fair Trade Town status in 2014. Happy to be back in Southern California, I'm involved with Fair Trade LA, and I am one of the co-founders of Fair Trade Long Beach.
Q. For those uncertain of the term, can you help us understand the basics of Fair Trade?
Teresa: Yes. Fair Trade principles are ethical standards that support workers' rights on a global scale. The supply chain of products is followed carefully to ensure there is no human exploitation in the forms of child, sweatshop, or forced labor (slavery/human bondage) of any kind. Fair Trade also advocates for strict environmental standards.

Q. How did the Fair Trade movement come about?
Teresa: From the WFTO website we learn the history of the activist movement began "in 1989, it has over 400 members across 70 countries. The membership includes over 330 Fair Trade Enterprises, as well as the broader movement of 70 organizations and networks that support them. The WFTO verifies the commitment of its members to Fair Trade through peer reviews and independent audits.
At its core, the WFTO is the home of Fair Trade Enterprises, which are mission-led businesses that put people and planet first."
Q. What are Fair Trade Standards?
Teresa: Also from WFTO, Fair Trade Standards:
Prove that greater justice in world trade is possible.
Highlight the need for change in the rules and practice of conventional trade and shows how a successful business can also put people first.
Provide a tangible contribution to the fight against poverty, climate change, and economic crisis.
Q. How would I know if a product is Fair Trade?
Teresa: You have to look for the various types of Fair Trade labels that seem to be most consistently placed on the bottom right-hand corner of the product. If there is no label, it is not Fair Trade.
The most reputable and easy to read labels are issued by the World Fair Trade Organization, the Fair Trade Federation, Fair Trade Mark, Fair Trade Certified, Fair For Life to name a few. I would trust those labels on products sold in the United States. I am also learning to look for the European Fair Trade labels when I shop for chocolate at World Market or Aldi. For example, founded in the Netherlands, the UTZ Fair Trade label is common.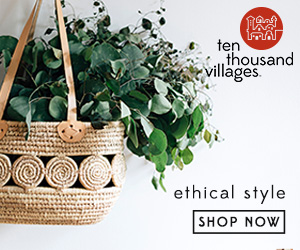 Q. What are some examples of Fair Trade products for the home, and where can I buy them?
Teresa: My favorite place to shop for home goods is Ten Thousand Villages and also balizen.
They both have a strong online presence and Ten Thousand Villages can be found at more than 50 store locations and additionally, 300 fair trade and specialty shops carry select Ten Thousand Villages products.
Also, West Elm has strongly come on board recently promoting their Fair Trade line of products.
Q. What is the benefit of buying Fair Trade?
Teresa: It just feels better to know that when you shop Fair Trade, you are immediately uplifting the quality of life for the artisan group or producer your purchase supports.

Q. Do Fair Trade products cost more?
Teresa: Sometimes it is more costly because you are paying for the quality and intricacy of an artisan-made handcrafted product. When we promote Fair Trade, we are promoting a living wage. That allows the artisan and producers the ability to have a roof over their heads and send their children to school. So I accept that in the cost value. On the other hand, if I notice that a Fair Trade product is drastically reduced at a clearance price, I know that the producer was paid upfront, and is not affected by that sale price.
Teresa closed this interview with her favorite Fair Trade quote by Anna Lappe:
Related Post: Another interview with a Fair Trade activist, Katie Bond of The Peace Exchange, can be found HERE.
Related Post: How to Identify Fair Trade Products
Want to save this article for future reference? Pin it to your favorite Pinterest board!